The programs in more detail: comprehensive business solutions!
No matter if you are starting up as a small business with a small CMS or are looking for a complex solution with portals, affiliate systems, online shop and automated administration - the Webmaster Alliance and its technical partner Worldsoft® are the right partners for you!
Your Internet presence will grow continuously with your company`s success!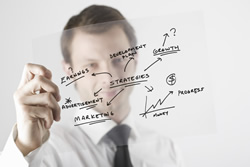 If your requirements escalate, you can also expand your Internet presence with us bit by bit. Depending on your level of development, the scope of functions on your website (W-CMS, front end) and the associated administrative functions (E.CMS, back end) are also upgraded. You have fully developed programs at your disposal, which operate in perfect harmony with each other! Professional technology and dedicated support services ensure the availability of your data.
The fastest CMS on the market: all user surveys show that two main factors are decisive for a positive assessment of a website: 1. fast loading times; 2. clear and well arranged navigation structure. The Alliance webmasters have been intensively trained to create clear and well arranged websites. The Worldsoft CMS® is BY FAR the fastest CMS on the market. A normal smaller content page is already loaded in approx. 6 milliseconds (this is 0.006 seconds) by the Worldsoft® servers. A sensational result! Time and time again, customers confirm that many homepage visitors are thrilled by the above-average loading times!
With our modern Content Management Systems (CMS), you have full control of your website. Changes can be made by yourself quickly and easily. This makes you independent of a webmaster and his Internet services and helps you save plenty of time and money with your CMS. You do not need to purchase expensive software - all you need is an Internet connection! You can change your website from anywhere in the world.
Overview of Worldsoft programms (WCMS and ECMS)
Website -CMS

Easy and fast change of content by means of one-click editing, no purchase of expensive software is required, no more update costs, worldwide availability via the Internet, user and group rights, automatic creation of the navigation, search engine optimized (generates "html" files) and much more.

Google Analytics

Google offers the program "Analytics" for free. This is a fantastic analysis program which also includes conversion tracking. In this way, you have full control of your Google AdWords advertising. On request, the Worldsoft CMS will also automatically insert your Analytics number on each web page! This makes it possible for you to receive perfect statistics about the click behaviour of your website visitors.

Online-Shop

No matter if you wish to start with a small online shop or require a large Internet shop with thousands of items - we offer a really professional solution! The PayPal connection ensures that you can offer payment by credit card without much ado.

News

Present your customers with the latest news. Short text and long text versions are available. The news module makes it possible for you to display the latest news on your website. The content can be faded in or out in a time-controlled manner or can only be accessed after user name and password have been entered.

Guest book

Your homepage visitors will appreciate a guest book. In this way, you will always have topical entries on your homepage, which makes your website even more interesting. Of course, you have full control of the entries - you can also delete contributions at any time, if you so wish.

Quiz

You can offer your customers a quiz on your website. Some questions must be answered correctly - then the customer can participate in a lottery - by email. In other words: you are assigned many email addresses, which you can follow up automatically by newsletter (the eligibility requirements point out the automatic inclusion in the mailing list). This module will bring you MANY new potential customers!

FAQ (Frequently asked questions)

This question and answer module explains your products and saves time and money at your hotlines. Interested parties and customers have access to detailed information. Multifaceted functions such as Top 10 of clicked FAQ, "Do you already know that..." etc. help you to avoid many callbacks. This disburdens your staff and saves time and money.

Forum

A customer forum will make your homepage come alive. Offer your customers the possibility to participate in a discussion forum. Of course, you have full control of the entries - you can also delete contributions at any time, if you so wish.

Event calendar

Use this dynamic event calender to display current events to your website visitors. You can, at any time, add or delete events.

Photo gallery

Create a photo gallery! Pictures liven up any website! You can, at any time, add or delete pictures.

Seminar registration modul

If you offer seminars, this module can save you VERY much time (and money) with administration. The Worldsoft seminar registration module saves the registration data directly to a database! DIRECTLY after registration, the customers will be sent an admittance voucher and route plan ONLINE! With just a few clicks, you can also print out letters of confirmation and reminders!

Adress administration

Entries on your homepage such as inquiries, newsletter registrations etc. will be forwarded DIRECTLY to the address database. The correct email will be sent automatically as reply, the inquiry is protocoled and encoded in the proper manner.

FollowUp-Newsletter

The address of an interested party is saved directly to the database via the inquiry form. The follow-up newsletter then AUTOMATICALLY sends follow-up mails. Without you needing to do anything, the interested party will be sent additional infos in predetermined intervals. According to our experience, your turnover via the Internet will increase by between 100 to 300 percent after only 3 to 4 follow-up mails!

Newsletter-Modul (personalized newsletters)

Apart from enabling standardized letters and emails, the newsletter module also enables the distribution of personalized newsletters. You only need to create a single email - and within a few minutes, thousands of customers will receive a PERSONALIZED newsletter.

Customer surveys

With the customer survey module you can create any type of survey for a fraction of the costs which would normally be involved. Use the newsletter module to send personalized emails to interested parties/customers containing a link to this survey. The results statistics are automatically updated with each answer and the values are displayed by means of numbers and/or graphics.

Invoicing

Use the invoicing module to generate invoices and print them out or sent them automatically by email as PDF file (readable with Acrobat reader)! By saving in PDF format, you no longer require a paper filing system for invoices.

PayPal connection

The invoicing program offers a PayPal interface. In this way you can easily offer your customers payment by credit card.

Debtors bookkeeping

Debtors bookkeeping enables accurate payment control. Reminders are automatically generated - and can also be sent automatically by email!

Turnover and sales statistics

All sales and turnover statistics are recalculated for each call-up. In this way you always have the latest figures for your company at your disposal!

Commission calculations

Even multilevel commission calculations can easily be generated via queries. The statements can also be sent automatically by email.

Affiliate (partner program)

In order to generate more turnover and profit via the Internet, Worldsoft offers a fully developed affiliate program (partner program). You could, for example, offer website holders advertising banners. If the partner refers new customers, he will receive commission on the turnover which was generated. The commission calculations are generated automatically by the system.

AboMoneyMaker

No matter if a language course, cooking course or similar is offered - once the system has been set up, it works fully automatically on a continuing basis. This module is a real "money maker". The pages of the training course are unlocked via an access rights management system.

Portals

The Worldsoft portal module can be used for generating portals containing any number of entries (only dependent on the scope of the CMS package). the entry window, search window and display window can be designed in any way. Sensible applications: classified directories, adverts or lonely hearts ads...

Membership (membership modul)

The Worldsoft membership module makes it possible for a group of registered members to manage their profiles, contacts and messages.
Here you can continue to the overview of prices and services.

If you have decided to use the services of Worldsoft, you can order here...